Plug and Pai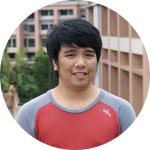 Plug
Plug Nantasaen studies Law at MFU in the 4th year by now. Plug completed secondary school with a scholarship of the Aroon foundation in a secondary boarding-school of the Church of Christ in Thailand in Chonburi.
In his first year of his studies at MFU he borrowed a friend's notebook during the nights. December 2012 the Aroon foundation gave him a notebook as Xmas-present. In the meantime he is completing his last year Law. Too, he is responsible for the Christian Student Fellowship at the Campus. He participates, together with his younger brother Pai, in the music team and they play during the services of their local church.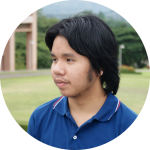 Pai
Pai Nantasaen completed secondary school in Sri Racha with a scholarship of the Aroon foundation. Since November 2014 Pai studies Logistics at Mae Fa Luang University (MFU), Chiangrai, with an Aroon scholarship.
He lives, together with his brother Plug, in a small apartment near the university. His hobby is playing guitar in the MFU band.
Report of semester 2/2016
To Stichting Aroon
I writing to grateful for kindness to support the scholarship and I am sorry to send report to delay. For this semester will be start in August15, 2017. Which my course subject in this semester there are 5 subject including; 1.Reverse Logistics Management, 2.Transport Safety and Environment, 3.Tourism Logistics,4.Performance Measurement in Supply Chain, 5.Special Topics in Logistics and Supply Chain Management. And the result of Grade Point Average until the last semester is equal to 2.9(C+) and I will try to get grade 3(B) on this semester.
The past activity of semester ago, which has similarly the any semester such as working in music band of university by add the duties to take care junior to practice each event and the activity of Christian club in university that I joint usually.
Due to the University has program of internship (professional experience) from Jun5 to Aug, 2017. According, I intern with Whale Logistic (Thailand) Co., Ltd. At Chonburi which is nearly from my home around 2 kilometers. I internship in Transportation department. By the concept duties of transportation is manage planning (schedule) and controlling (Coordination) for receiving container and returning container by truck use in transport. Moreover, the internship is successful and I get knowledge about logistics from these organization.
Finally, I would like to written the report on finished this semester. God blessing to you all Stichting Aroon.